Products Catalog
Contact Us
Address:
No 438,Pu Yin road,Xin Nong Zhu Jing town,Jin Shan district ShangHai city,China
Tel:
+0086 21 37283520
Fax:
+0086 21 37283521
H.P:
+86 18016318890
E-mail:
info@torkdrive.com
Website:
www.torkdrive.com
Planetary Gearbox
Planetary gearbox ,geared motor be Widely used for all kinds of industrial applications:
1.Possibility of flange , foot or shaft mounting solutions;
2.Low speed shaft design: cylindrical with key,splined,hollow with shrink disc or splined hollow shaft;
3.High manufacturing quality standard, Motor standardized to IEC, High and reliable performance;
4.Nominal transmission ratios to R40/3(3.15~3000) for coaxial , R40/3(10~2120) for right angle shafts;
5.Case hardened and hardened gear pairs : external gearings made of 20CrMnTi steel , internal gearings made of 42CrMo, Floating planet carrier in hardened and tempered steel;
6.Cylindrical spur gears with profile and flank modification , ground or accurately shaved GLEASON spiral bevel gear pairs with ground or accurately lapped profile;
7.Concordant directions of rotation of high and low speed shaft , both for coaxial and for right angle shaft.
8.Gears load capacity calculated for tooth bending strength and pitting ; maximum instantaneous power verified.
P series planetary gearbox (gear reducer) uses several planet gears to transfer load, thus to actualize power division and effective use of inner engagement. It is featured by compact structure, small volume, lightweight, wide range of ratio, high driving efficiency, etc. ...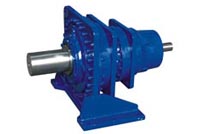 N series planetary gearbox (gear reducer) is widely used for industrial applications. With the designs deriving from modern innovating, the product makes great progress in compact, price effectiveness and combination. The product configuration is highly versatile due to several options as ...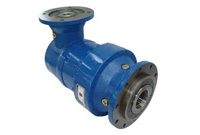 DJ series electric winches are drived directly by electric motor andplanetary gearbox.This system transmission procedures have been simplified byremoving the hydraulic process.In term of sitable selection of electric motorand reduction ratio.,the control of winch would be come easier and morereliabl...